Welcome to our Old World Gourmet Patisserie featuring Chocolate Pastry Minis and other confections made with imported French flour inspired by the hands of a loving mom who had a gift of drawing people together around a big oval kitchen table for long talks, laughter and delectable treats in an old Victorian house on an avenue named Myrtle.  Scrumptious food and good conversation build beautiful lasting relationships.  With one bite of our gourmet confections, you'll experience how easy it is to linger around YOUR kitchen table sharing precious memories with friends and family. Info:info@MyrtlePastries.com800-370-7189
L'Avenue Myrtle 15 is a family owned old world patisserie. This women-owned business is dedicated to our loving Mom. We are passionate about keeping the legacy of our mother alive by sharing her delicious confections. The smell that filled that big old Victorian house on Myrtle Avenue would lure our siblings (along with all the other extended "family" that would come to our home to find a mom with open arms and a shoulder to cry on) to a kitchen table with plenty of food and conversation. We hope you enjoy the experience of biting into the traditional buttery taste of our old world recipes of goodness.
We offer Chocolate Pastry Minis, Chocolate Gluten Free Pastry Minis, French Pecan Tea Cake, along with other occasional limited time confections. 
Our confections are perfect for family gathering, and special occasions. They are presented to you individually wrapped in your choice of a standard box or a decorative gift box to reflect your special occasion.
The petite boxes (4 Piece Pastry Minis or 6 Piece Pecan Tea Cakes) are perfect for party favors, hostess gifts and small individual birthday or holiday gifts. The grande boxes (18 Piece mini pastries or 24 Piece Pecan Tea Cakes) are great for parties, baby showers, and family holiday gifts.
We also cater!  Do you have an upcoming event? Contact us so we can customize our menu pack-up to meet your specific needs.
We can't wait for you to indulge with our pastries and provide us with your feedback. Enjoy! Bon Appetit!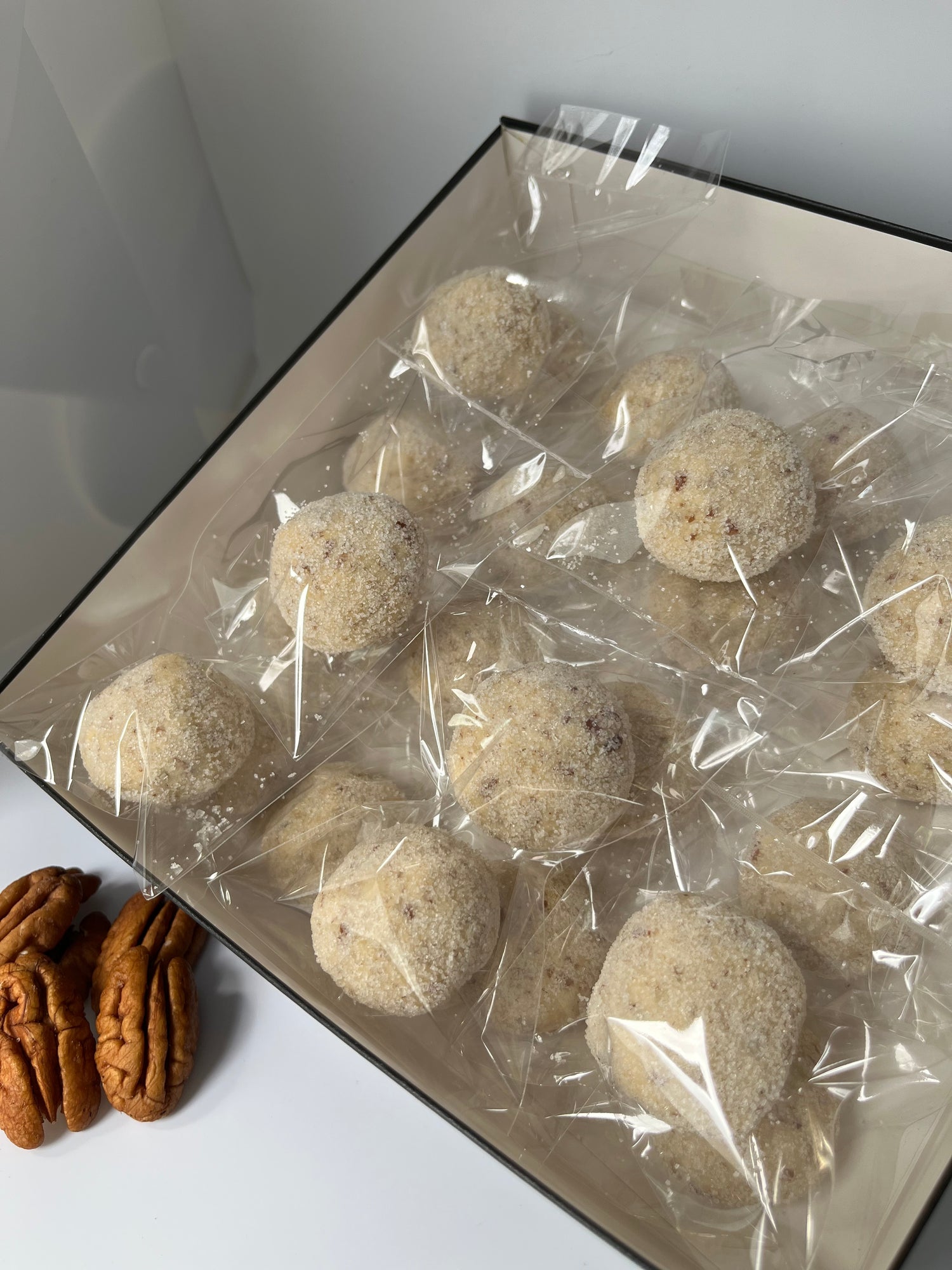 We use only the finest ingredients including imported French T45 flour which is a high quality wheat flour that contains less gluten than US flour. (This flour is used in all our confections except for our Gluten Free offerings)
We bake fresh to order meaning your order is immediately individually wrapped and sealed as soon as they are cooled from the oven and sent your way.
Our confections are made in small batches - mixed, constructed and baked by hand...not mass manufactured. Because of this, no two pieces will be uniformly alike. They are perfectly imperfect.
We individually wrap each item. This ensures freshness and minimizes contamination when sharing. It also allows you to freeze your confections up to 3 months. Just place them in the freezer and bring out your desired amount and thaw for a couple of hours. You may even want to pop them in the microwave for 10 seconds after they are thawed for a comforting dessert.